TRUSTED THROUGHOUT THE HOSPITALITY INDUSTRY

Health and well-being have become increasingly important to guests, and expectations of the fitness facilities you offer have risen. Spartan Fitness understands hospitality and, regardless of the scale or demographics of your business, our aim is to delight your guests, help increase occupancy rates and revenue, and enable true differentiation from your competition.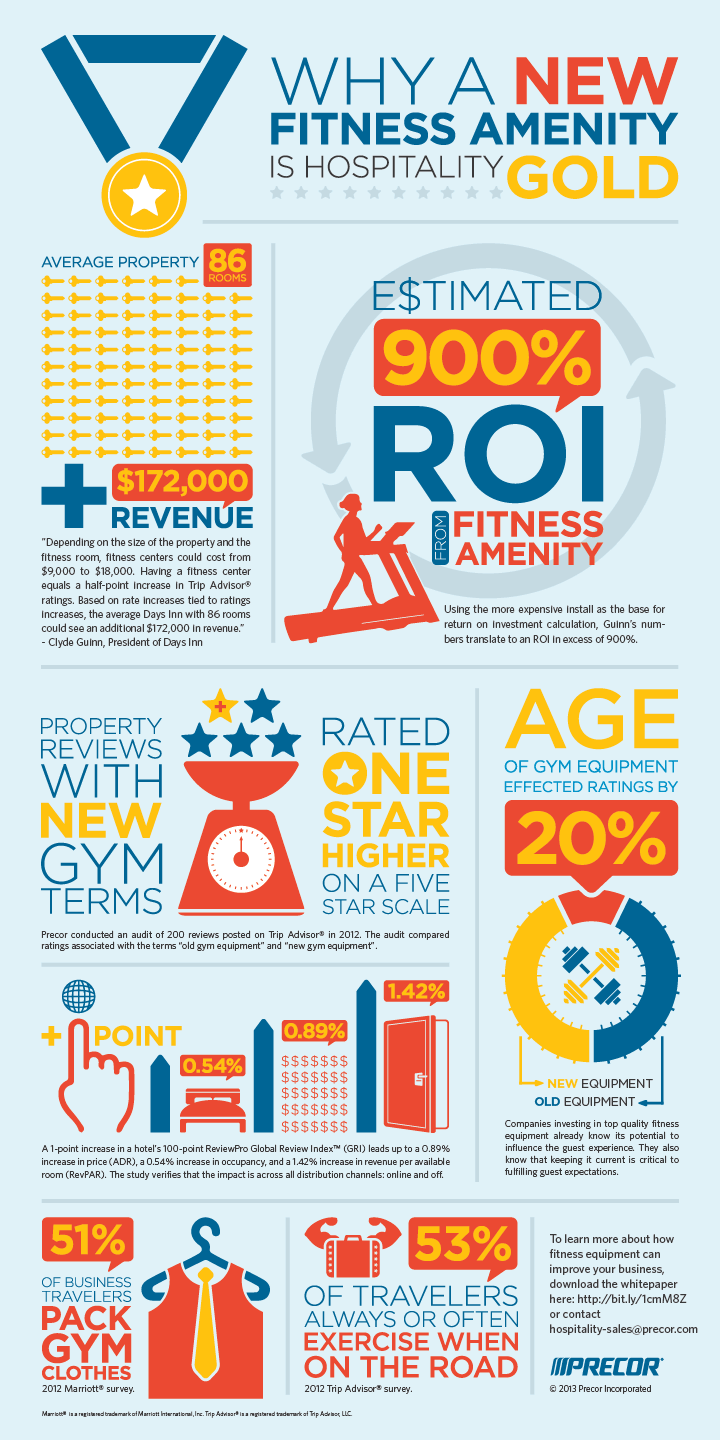 Increasing Occupancy Rates and Raising Revenue Per Available Room (RevPAR)

The latest trends in hospitality demand a focus on fitness, and the number of fitness-minded guests is probably larger than you think. In a TripAdvisor survey, 53 percent of travelers said they always or often exercise while on the road. According to a Marriott survey, 51 percent of business travelers said they pack their gym clothes. But what about the other 50 percent? It turns out they may be influenced by the age of your gym equipment. Precor conducted an audit of TripAdvisor reviews and found a surprising relationship between age-related fitness amenity comments and property ratings. With this in mind, Precor created this easy-to-read infographic addressing the fitness-minded traveler and the impact of fitness on RevPAR, occupancy and pricing power.

What type of equipment should you get for your hospitality fitness amenity?

When planning a fitness room for your business, it's hard to know what kinds of equipment you should invest in. Based on our experiences and research in the hospitality industry, we've established a successful ratio of how you should split up the pieces in your fitness amenity.

It has to look right. It has to feel right. Whether staying for business or for leisure, discerning guests have come to expect beautifully designed, state-of-the-art fitness facilities that reflect the hotel's individuality.
Spartan Fitness is much more than simply a fitness equipment provider - we have an established track record of success with a diversity of hospitality clients in creating fitness environments that embody the distinct character and style of the hotel itself.





What is the right fitness choice for your Facility?
Reach out to our team for help choosing the equipment and layout to match your guest needs and business goals.
ATLANTIC OFFICE
10 Morris Drive, Unit 13
Dartmouth, NS B3B 1K8
Toll Free 877.778.8822
ONTARIO OFFICE
321 Cityview Blvd., Unit 2
Woodbridge, ON . L4H 3S7
T: 647.874.1426
What else is new in the fitness industry?
Strength Training for Expectant Mothers
CLICK to Download PRECOR 2019 Catalog