True readiness demands commitment on every level, both in mind and in the body.

Canadian owned and operated, Spartan Fitness has a long history helping Canadians maintain a healthy lifestyle and reach their fitness goals. All of us at Spartan Fitness wish to take this opportunity to thank the men and women of our esteemed military services, as well as those who have previously served.
Providing fitness equipment that assists in bolstering our mighty fighting forces is a cause that greatly inspires us. We take this responsibility with the utmost seriousness and will continue to strive to exceed the needs, desires, and expectations of Command, as well as, our servicemen and women. We are in awe of our all-volunteer military, and we embrace the knowledge that there are heroes amongst us. Thank you for entrusting us with your fitness equipment needs, and we look forward to continuing our relationship.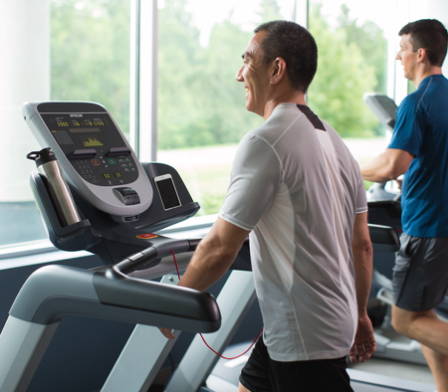 Precor TRM 731
Meet the needs of your soldiers and their families with treadmills that are personalized to match their every step. This treadmill is designed to optimize performance and maintenance while providing a comfortable and effective workout. The simple, clean design holds up under heavy commercial use, ensuring your investment will last into the future.

Experience™ Series 800 Line
Meet the most well-appointed cardio equipment that Precor offers, with a reputation for reliable performance, ease of care, and service. In addition to our iconic smooth feel, the treadmill and elliptical include the Active Status Light for at-a-glance monitoring of equipment status. This line also includes our unique Adaptive Motion Trainer® with Open Stride™, recumbent and upright bikes.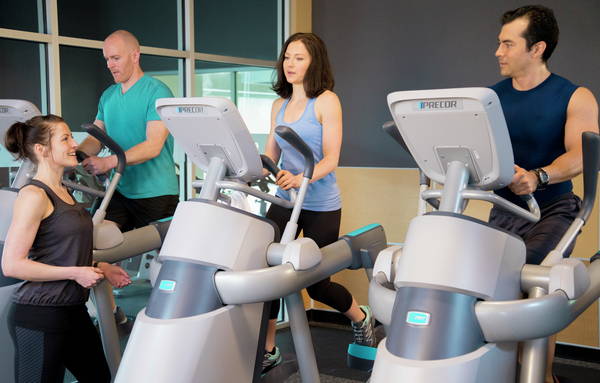 Precor EFX 835
Give your soldiers and their families the ability to get more out of every workout while you enjoy exceptional reliability and performance. Our next-generation Elliptical Fitness Crosstrainers (EFX®) with a proprietary elliptical motion path provides a perfectly natural, low-impact stride so that soldiers can work out longer and harder. As it did in 1995, when we first introduced the elliptical to the world, the EFX still sets a standard.

Precor AMT 835
The Precor Adaptive Motion Trainer® (AMT) can provide your soldiers with a variety of cardio experiences in one piece of equipment. It will take the pressure off your other equipment by delivering a range of motions similar to what's offered by your treadmills, ellipticals, bikes, and climbers. With low energy consumption, the AMT also provides a low cost of ownership.
Encourage Community with Group Training
Whether you're focused on class, team, HIIT, or circuit-style group training, combining Precor products and innovative programming can bring new solutions to invigorate your group training offerings, and prepare your soldiers for battle.
Assault FitnessAssault Fitness products are optimized for high-intensity interval training for a serious workout. Their lightweight frames and integrated wheels allow trainers to quickly and easily reconfigure the training environment, supporting a variety of programming styles. Able to withstand desert temperatures and climates without rusting.
Spartan Fitness is much more than simply a fitness equipment provider - we have an established track record of success partnering with university and college clients to creating fitness environments that integrate and enhance wellness programs and health initiatives.











What is the right fitness equipment
choice for your Facility?
Get the details on the full range of our products and services, including our newest offerings:
New color options for the Precor Experience™ Series cardio line,
Queenax® and Assault Fitness products for group training,
Spinner® Chrono™ Power and Spinner® Climb™ bikes,
TRM 731 interval treadmill to support HIIT training.
And more upholstery colors for Precor Discovery™, Vitality™ and Icarian® strength lines,
Entertainment and media apps, and Bluetooth® for Preva® Networked Fitness.
Reach out to our team for help choosing the equipment and layout to match your guest needs and business goals.
ATLANTIC OFFICE
10 Morris Drive, Unit 13
Dartmouth, NS B3B 1K8
Toll Free 877.778.8822
ONTARIO OFFICE
321 Cityview Blvd., Unit 2
Woodbridge, ON . L4H 3S7
T: 647.874.1426
What else is new in the fitness industry?